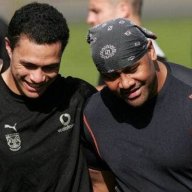 mt.wellington
Warriors Orange Peeler
Contributor
New 6pm Friday night game part of overhaul of NRL broadcast deal
55 minutes ago
Rebecca Wilson and Nick TabakoffThe Daily Telegraph
New broadcast deal could deliver 6pm game to Fox Sports. Pics Adam Head
New Friday night 6pm game for Fox Sports
Overall deal reported to be worth $1.85b
Monday night football scrapped under new deal
New broadcast schedule could begin 2016
A NEW 6PM Friday night game would be scheduled under a proposed NRL broadcast deal that would also see Super Saturday return to Fox Sports.
Fox Sports could seize as many as five live games in a deal currently under negotiation between News Corp, the NRL and the Nine Network, which could deliver the game $1.85 billion and be sealed as early as this week. The new deal has taken shape in the weeks since former League boss Dave Smith's resignation last month, with talks making significant progress in the last week.
Under the proposal, Nine gives up its Saturday night prime-time game to Fox Sports (wholly owned by News Corp) for around $30 million a year, or $150m over five years, after that game was taken away from Fox in the deal Smith negotiated with former Nine chief David Gyngell earlier this year. That deal also included the loss by Fox Sports of its exclusive Monday night games. Once the Nine deal was announced, Fox advised the NRL that it was not interested in negotiations unless Super Saturday was back put on the table.
Fox would also pay Nine about $15m a year for the simulcast rights to screen Nine's Thursday, Friday and Sunday games under the deal. Negotiations are also underway to fast-track any new broadcast deal to as early as next year, although talks are still ongoing on this issue.
If all parties agree on these measures, the NRL could attract up to $1.85b for its overall rights, or about $360m a year. Nine could see the original $925m cost of its deal over five years reduced to $700m for its three free-to-air games each week, as compensation for its reduced coverage.
If Fox Sports gets everything that it wants, it could now pay up to $800m. The rest of the $1.85b figure would come from digital rights (about $200m), international TV rights ($100m) and naming rights for the competition ($50m).
A Friday night game kicking off at 6PM would be a key sweetener for Fox Sports, which would televise those matches from Auckland, Brisbane or Townsville from 2016.
This would ensure games held in the earlier timeslot would also attract a crowd because arriving early for matches in peak hour on a Friday night in Sydney would be too difficult in peak hour traffic.
The $925m deal agreed between Nine and Dave Smith earlier this year gave Nine all four of the top games each weekend, including Saturday. The Friday 8PM game would remain the clash of the week, followed by Saturday 7.30PM game, Sunday 4PM, Thursday 8PM, Saturday afternoon games, Friday 6PM and Sunday 2PM.
In another sensational development, Fox Sports has formally given up its Monday Night game, so it can retain three matches for Super Saturday. Nine will commence Thursday night games next year if all parties agree.
The free-to-air league broadcaster has also agreed to the simulcast plan for a share of the ad revenue on Fox Sports. Pay-TV subscribers can expect a similar coverage to the AFL, which has simulcast all matches for several seasons.
Sources close to the negotiations say the new deal, expected to be trialled next year, is on tenterhooks but huge progress had been made in the last week. The departure of Dave Smith last month and the exit from Nine of David Gyngell early in the week were seen as a sweetener for Fox Sports to re-enter talks with the NRL and Nine.
Fox Sports swung into negotiations with Nine and the NRL to shore up their position but insiders say the monetary value of the entire deal is still short of the record breaking $2.2 billion AFL negotiation, announced earlier this year.
However, the AFL's deal runs over six years and includes an extra game per round.
The new NRL broadcast deal will not commence until 2018 but The Daily Telegraph understands that all parties would prefer to start the new programming next year. It is unclear when the handover of the contract money will take place.
PROPOSED SCHEDULE
Thursday
8pm: Nine
Friday
6pm: Fox Sports
8pm: Nine
Super Saturday
3pm: Fox Sports
5.30pm: Fox Sports
7.30pm: Fox Sports
Sunday
2pm: Fox Sports
4pm Nine
*To potentially start in 2016
https://www.dailytelegraph.com.au/s...l-broadcast-deal/story-fni3fbgz-1227603719769