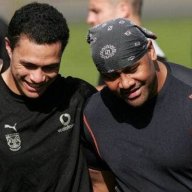 mt.wellington
Warriors Orange Peeler
Contributor
I heard the new premz coach wanted to bring some U 18's and 20's up but got road blocked by the coaches who wanted to win the championship for that grade; pretty sad they couldn't see the bigger picture.
Was speaking to a committee member about that. One of the junior coaches went so far as to recruit top players from other clubs just to beef up his squad. They have dominated the comp this year. I think he fancies himself as a bit of a Wayne Bennett when he should also be trying to develop these kids.
Sad to see the once proud Auckland competitions struggling. Oats was a mighty club, all their sides through the grades were strong and disciplined. I remember first watching them when they had the likes of Ernie Wiggs , Eddie Heatly, Paul Matete , Shane Dowset? , Bob Jarvis and then Mark Graham, Terry Whittle , Owen Wright and Hugh McGahan among others. Club games were almost a derby each weekend. Ponsonby beat Cronulla in the seventies in one of the best games on Carlaw Park I ever saw. The following year they sent the Roosters ( Easts ) out to play Otahuhu, then Fox holders. Oats won a tight game. That's how good club football was. I can't remember 50 point margins between Fox teams. Promotion relegation was also keenly fought with the usual Sharman Cup suspects battling to beat the bottom Fox sides to go up. I know some players got a few hundred dollars and some clubs paid a win bonus but club loyalty was fairly robust. If you moved about for the money you were soon found out. Most clubs built their sides via the junior ranks. How times have changed.
Great post man. Bit before my time but I have heard all the stories. Old Graeme Lowe cut his teeth at Oats before he went on to become a supercoach. Worked at Terry Whittle's house and the guy is loaded these days. Runs a truck hiab business with about 30 units. He was still playing masters last time I spoke to him. Oats was pretty powerful back then and only really started going down in the last 15 years or so. They simply dont have the money to compete. Truth is if they did they would be doing exactly what the money clubs are doing now. They've certainly done it in the past when they did have the funds...