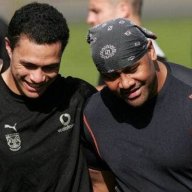 mt.wellington
Warriors Orange Peeler
Contributor
*************************EDIT: Adding the jerseys pics as they become available**************************​
********************************************************************************************************************************​
Been trying to gather more intel before starting this thread. Tidbits are slowly coming in. One thing I have been told from a few sources is that the designs are under very tight wraps so Im not sure if we will get a leak. As a jersey fanatic any bit of news is good news.
All I know at the moment is that we will definitely have a new design home and away jersey. Ive been promised that it'll be similar to the current one with the same colours (black, white and red) but just an updated version. Also, the same colours will feature across all three grades to tie them together. Same as whats happened this year.
We will have the same jersey types eg. Women in League, Heritage and at least one training jersey. Theres also a design for an ANZAC jersey that the team hope to wear at Eden Park against Melbourne Storm. The club are fighting to have that game here and have some HUGE plans for it. The jersey will feature ANZAC type images. Think one of them was a monument at Gallipoli or something like that?
Cant remember but Im sure the Heritage jersey will be a 1995 stylised jersey? Could be wrong but Im sure that was what was said.
Also my memories a bit foggy on this one but not sure which jersey it is but it will feature a half original Warriors logo and half current one. Think its the home and away and will have 20th Anniversary above. You'll have to forgive my amateurish attempt at doing it but my understanding is it'll look something like this.
​
Maybe with the original logo having a straight tongue.
Thats all I got people but please let us know if you have anything to add...
Last edited: