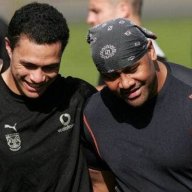 mt.wellington
Warriors Orange Peeler
Contributor
FOX MEMORIAL SHIELD GRAND FINAL
​
Pt Chevalier Win Fox Double-Overtime Thriller
It took 89 minutes of gritty rugby league, but Pt Chevalier have won their second-consecutive Appliance Shed Fox Memorial Premiership after beating Mt Albert 18-17 following double extra time.
It came down to the very last minute of extra time for the result to be confirmed, with Mt Albert halfback Cody Walker, so often the hero for the Lions over the years, missing a game-winning shot at goal after the siren.
It was a hectic end to an outstanding match at Waitakere's Trusts Stadium.
After scores were tied 12-12 at the end of regulation time Mt Albert took the lead in the 82nd minute thanks to a field goal from Walker.
Three minutes later Pt Chevalier stole it back when winger Saula Solomona scored in the corner and Jonathan Carl converted from the sideline in what turned out to be the winning moment.
After finishing the season as minor premiers Pt Chevalier came into the match as underdogs, having lost to the Lions twice in the past month.
The win means the Pirates now hold all of the major Auckland Rugby League trophies – the Fox, Konica Minolta Roope Rooster [challenge cup which goes on the line every home game], Stormont Shield [champions of champions each year], Kiwi Shield [club championship] and Rukutai Shield [minor premiership].
But it was Mt Albert who looked the most promising to start the game, with tries to Jeremiah Faaumuumu and Malakai Houma taking them out to a 10-0 lead.
Slowly but surely Pt Chevalier found their feet in the contest though, and after Api Malua scored and Carl converted they trailed by just 10-6 at the break.
With the miserable weather showing no signs of improving Mt Albert elected to take early points in the second half, kicking a penalty to take the lead back to six.
After a 20-miunte break in scoring Pt Chevalier needed only a half chance to get over for their second – Solomona sliding over for a try which went unconverted and left Mt Albert 12-10 up.
A Mt Albert knock on followed by back-to-back penalties set Pt Chevalier up with an easy penalty shot which they took to tie the game up at 12 apiece.
Both sides had numerous chances to seal the game, but an inability to get field goal attempts away meant the game went to extra time.
Current Premiership rules mean that two five minute periods of extra time must be played before golden point comes into effect.
In the end there Pt Chevalier came up with the clutch plays when they counted, with Carl's 86th-minute sideline conversion, following Solomona's try, proving the decisive play.
At full time coach Grant Pocklington, who earlier in the week had been named ARL Coach of the Year, credited the bond his side had developed this season for the gutsy victory.
"Our brotherhood got us over the line," he said.
"We had seven players out today and it didn't matter, they all just wanted to do it for each other.
"It was special, a big congratulations to Mt Albert, but to have to go to extra time and then have it down to the kick was incredible.
"It is sad for Cody (Walker), he is a good footballer, but that is how it goes.
"I wouldn't say I was confident, but I had a good feeling.
"I can't believe we have gone back-to-back, not many sides do it and to have every major ARL trophy with the club is outstanding."
Pt Chevalier 18
(Malua, Solomona x2 tries; Carl 3 goals. DEFEAT
Mt Albert 17
(Faaumuumu, Houma, Rota tries; Walker 2 goals; Walker 1 field goal)