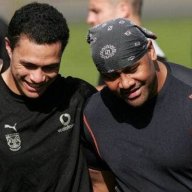 mt.wellington
Warriors Orange Peeler
Paki Afu gave us a hard time during that game toko, it's early but he's got to have a look in at counties this year - big unit.
Was it someone wearing #6 who was playing around centre? Or #8? Got a killer step and made some clean breaks. Looked young too. Think the difference was not only did you's play for the full 80 but you guys were also fitter and playing for each other. Your line was set on attack right up to the final whistle where Oats were only getting in formation by the 3rd or 4th tackle.
Sione Feao is a good player but doesnt have the focus to really get his game to the next level. Not the best trainer. If he put his head down he would make that leap but the clocks ticking. Use it or lose it. He only needs to look at how James Blackwell squandered his chance by drinking and stuff...